OLAP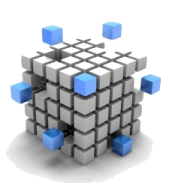 On-Line Analytical Processing (OLAP) is a category of software technology that enables analysts, managers and executives to gain insight into data through fast, consistent, interactive access to a wide variety of possible views of information that has been transformed from raw data to reflect the real dimensionality of the enterprise as understood by the user.
OLAP functionality is characterized by dynamic multi-dimensional analysis of consolidated enterprise data supporting end user analytical and navigational activities including:
Calculations and modeling applied across dimensions, through hierarchies and/or across members.
Trend analysis over sequential time periods.
Slicing subsets for on-screen viewing.
Drill-down to deeper levels of consolidation.
Reach-through to underlying detail data.
Rotation to new dimensional comparisons in the viewing area.
From weeks to minutes, so is the power of multidimensional OLAP solutions with which we work. No need to rely on advanced knowledge or technology departments, users can create their own advanced adhoc analysis.
Everything an analyst needs to query, reporting and analytical decision-making: charts, graphics capability, drill down, drill to detail, export to different formats, by securing roles. Multidimensional analysis provides data access at high speed, thanks to its multidimensional design. A structure oriented to the analysis and decision making.
Using Jasper & Pentaho functionalities, we provide the following solutions :
Understanding Business requirement.
Designing Business Model on the top of EDW.
Design Schema which contain OLAP cubes for EDW.
Writing MDX queries to retrieve data from OLAP cubes.
Design and develop highly interactive reports, out of cubes, with slice and dice functionality.
Provide platform to end-user to generate Ad-hoc reports.