Mobile BI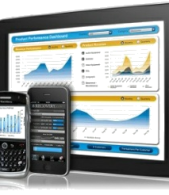 Whether on the road, in a meeting, or at home instant access to business information has become a necessity for competitive organizations. Users require access to the same data from wherever they are. We can help you in providing BI solutions on the move to your phones, tablets, iPad etc.
We provide all the security features which are necessary in mobile environment like authentication, role based access. Users can access the data anywhere whether they are travelling, in meeting or at home. We use Jaspersoft mobile BI and Pentaho mobile BI to provide customized solutions which can cater to your business need and that too at a affordable price.
We can also help in embedding Business Intelligence capabilites in your mobile applications.