Data Warehousing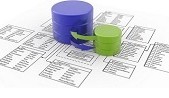 A data warehouse or enterprise data warehouse (DW, DWH, or EDW) is a database used for reporting and data analysis. It is a central repository of data which is created by integrating data from multiple disparate sources in such a way that it is understandable, navigable, extensible and of very high performance.
At Helical, we have got great expertise in designing data and business intelligence infrastructures. Some are Corporate Information Factory-like, others are dimensional structures, and many have features of both. You may have an environment that's best served by a centralized data warehouse and distributed data marts. You may demand the near real time query and reporting capability of an operational data store (ODS). You may need to provision data directly from source systems. Or your environment might be a hybrid with many demands. Regardless of requirements, we know there are many ways to design your BI architecture. We'll help you choose a path that will maximize benefits for your organization's short and long term BI needs, with minimal risk. And we'll help you implement this choice cost-effectively with OSBI technologies.
With our experience, we'll guide your deployment of optimized databases and efficient data integration infrastructures, to serve information to those who need it most. Executives, line managers and business users will find the answers they need in the dashboards, reports, OLAP cubes and statistical analyses. These are accessed via web-based consoles, custom web applications, email or even via web services that drive from this infrastructure. Let OpenBI help you transform your data into intelligence.
Helical provides consulting in strategy, design, architecture, development and implementation of data warehouse and business intelligence solutions. Very broadly, to
Integrate disparate data sources
Provide a 'single version of the truth' for purposes of reporting and analysis
Track historical data
Trend month-on-month or year-on-year data for business analysis