This blog will talk about how to use Jaspersoft Report Scheduler, its configuration etc.
1.       Report Scheduler  :  It is an automated and iterative platform to email reports to anyone in PDF,CSV,Excel,….etc format.
2.       To  send email , it should be connected to outbound email server,  so for this it should be configured accordingly
a.       Go  to this  path : C:\Jaspersoft\jasperreports-server-5.5\apache-tomcat\webapps\jasperserver-pro\WEB-INF\js.quartz.properties
You will find the js.quartz.properties file like below screenshot: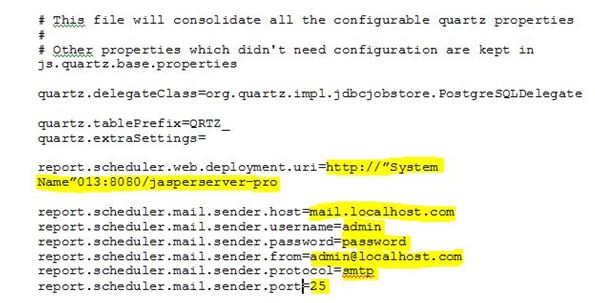 b.Change the yellow mark values to your required input
c.Restart the Jasper Server
3. Now Go to Report Wizard and scheduled your required job or report :
Below mentioned are the steps to be followed for doing the same:
b. After this go to "create schedule " tab , you will find like this:
Here you can set how frequently you want to schedule this report and for what timezone
c. Then go for the "output options" tab in this window only[in the 2nd right] Here you have to specify in what format you want to send the report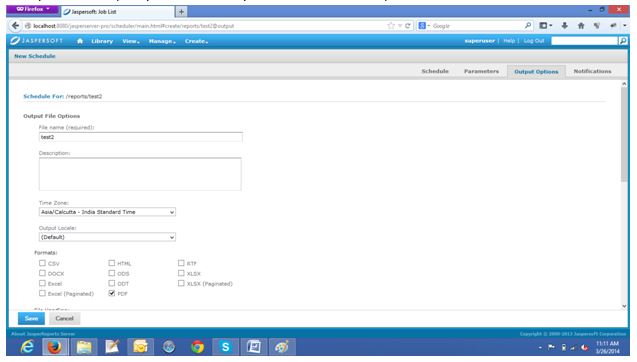 d. Then go for "notification" in this window. To whom all we want to send the reports, the same is to be specified in this window
Now You have successfully scheduled the reports…!!!
4. If we want to stop the scheduler, then go to this location
C:\Jaspersoft\jasperreports-server-5.5\apache-tomcat\webapps\jasperserver-pro\WEB-INF\applicationContext-report-scheduling.xml
Remove the init-method="start"
Restart the Jasperserver
Thanks
Rupam